/TERRA
▼▼▼ Gaming Platform ▼▼▼

Game is being develop using kocho.io. To play the game free, Players are require to download the kocho app on their mobile devices.

▼▼▼ Plot / Gameplay▼▼▼

You will be playing as a rookie officer new to the city. You may make friends or enemies with its citizens. During the key event, you will stumble upon some clues, then unravel the mysterious lore, or get killed in the process.
▼▼▼ Release Date ▼▼▼
Demo (English) - Apr 2023 (It's not available yet!)
Demo (Chinese) - Sep 2023 (It's not available yet!)
More support is needed for this game to be successful. Please kindly give it a shoutout, any little bits exposure will do this game a big favor. A crowdfunding campaign will be launched when it gets to beta.
▼▼▼ (Old Concept Art & Model Sheets) ▼▼▼

▼▼▼ Screenshots ▼▼▼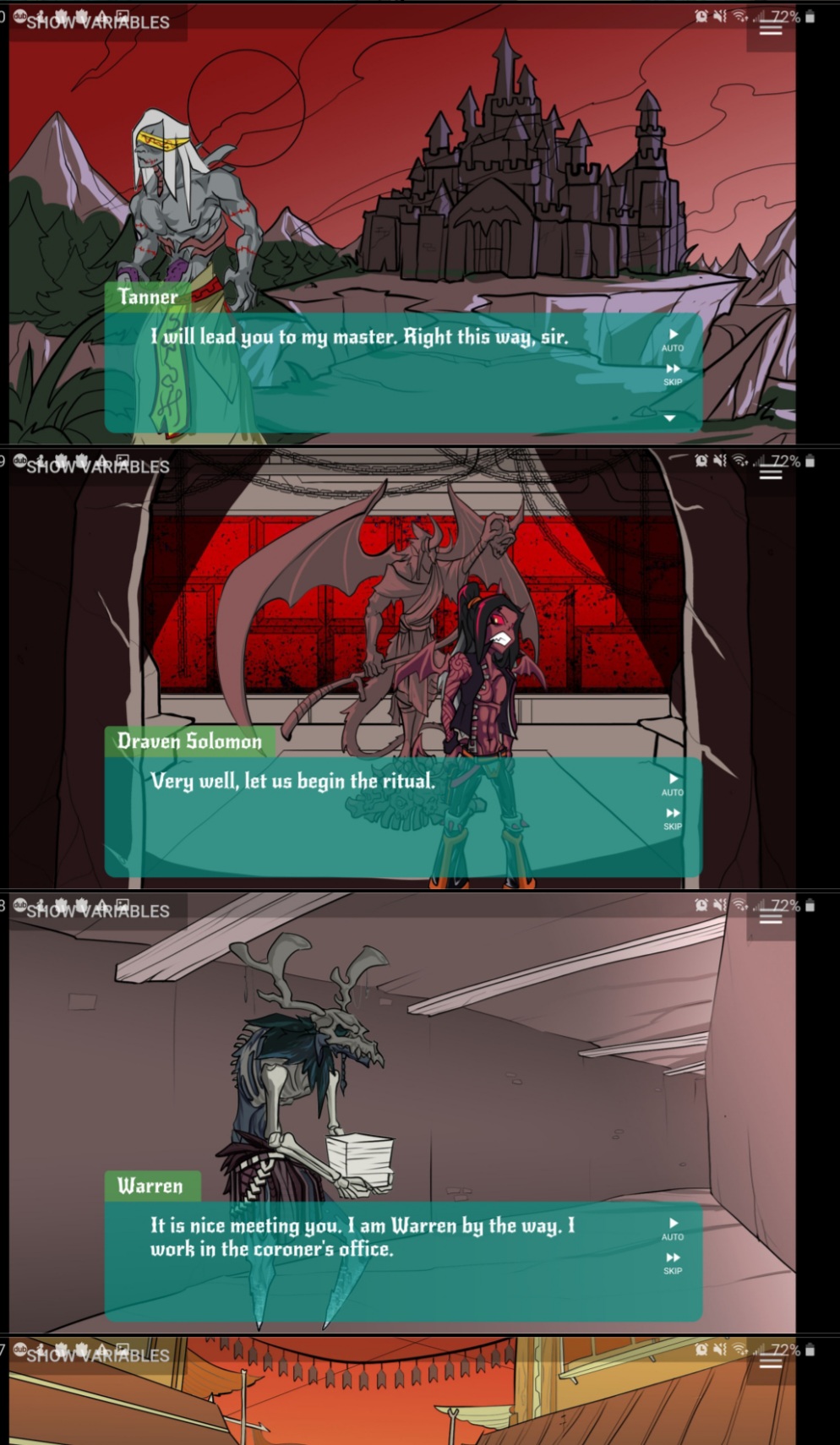 ▼▼▼ Characters ▼▼▼
▼▼▼ BG ▼▼▼

| | | | |
| --- | --- | --- | --- |
| 1.BG.Feast | 6.BG.Woods | 11.BG.Cabin | 16.BG.Cell |
| 2.BG.Grave | 7.BG.Pub | 12.BG.Shop | 17.BG.Library |
| 3.BG.Hut | 8.BG.Hall | 13.BG.Market | 18.BG.War |
| 4.BG.Sewer | 9.BG.Tower | 14.BG.Armory | 19.BG.Gym |
| 5.BG.River | 10.BG.Alley | 15.BG.Castle | 20.BG.Den |
▼▼▼ Emotes ▼▼▼

| | | | | | | |
| --- | --- | --- | --- | --- | --- | --- |
| No. of Emote | 1-happy | 2-sad | 3-worry | 4-blush | 5-malice | 6-wonder |
| | 7-shock | 8-fun___ | 9-bored | 10-norm | 11-fury | 12-bonus |
| Beowulf | | | | | | |
| | | | | | | |
| Draven | | | | | | |
| | | | | | | |
| Reznor | | | | | | |
| | | | | | | |
| Vitus | | | | | | |
| | | | | | | |
| Warren | | | | | | |
| | | | | | | |
| Tanner | | | | | | |
| | | | | | | |
| Maya | | C | C | C | | |
| | C | C | C | | C | |
| Julio | | | | | | |
| | | | | | | |
▼▼▼ Support Cast ▼▼▼

| | | | |
| --- | --- | --- | --- |
| | | | |
| Yamata | Rictus | Draken | <Spolier> |
| | | | |
| Steinfeld | Jerry | Spike | Tom |
▼▼▼ Timeline ▼▼▼
Beowulf - Checked
Draven - Checked
Reznor - Checked
Vitus - Checked
Warren - Checked
Tanner - Checked
Maya
Julio
▼▼▼ CG / Spoliers ▼▼▼

CG1.B.HE

CG11.D.PAST
horns missing...

CG21.V.WAR

CG31.W.BE

CG2.B.BE

CG12.D.PACK

CG22.V.FATE

CG32.W.EAT

CG3.B.WAR

CG13.R.HE

CG23.V.VS

CG33.M.JOY

CG4.B.JAIL

CG14.R.BE

CG24.V.PAST

CG34.M.FIRE

CG5.B.RUN

CG15.R.WAR

CG25.T.HE

CG35.M.PAST

CG6.B.HEAL

CG16.R.BITE

CG26.T.BE

CG36.M.HUG
CG7.D.HE

CG17.R.FURY

CG27.T.WAR

CG.37

CG8.D.BE

CG18.R.HAND

CG28.T.CRY



CG9.D.WAR

CG19.V.HE

CG29.T.WALL



CG10.D.FATE

CG20.V.BE

CG30.W.HE



▼▼▼ Devlog / Spoliers ▼▼▼

Key Event: Tower of Darkness [1-Morning]
BG/CG

Variables

Ch.0, Introduction / Arrival

-Meet Steinfeld & Juan

Notes:
quirky > unlock CG30
savage > unlock CG13
wisdom > unlock books in library, 5> good end, 5<bad end
guts = fight stats



Sc.1.M.a, Breakfast
- Local Pub
- Meet Maya
- Divination
-"This smells divine."





Sc.1.M.b, Move in
- Meeting Jerry
- "Roommates?"





Sc.1.M.c, Walk
- Meeting Reznor[bat]

"Hmm...What do we have in here?"
"You don't recognize me, do you, new blood?"
a. My deepest apologies, sir.
b. Who do you think you are?!
c. ...



a.
b.
c.


Key Event: Tower of Darkness [1-Noon]

BG/CG

Variables

Sc.1.N
Meet Beowulf
a. Canteen
Sc.1.N.a
-Lunch
-Meet Warren
-Beowulf kick his nephews out of woods after their distillation lab almost burn down the woods.
-Settle their arguments over the moonshine topic
-b. Early arrival
Sc.1.N.b

Sc.1.N
- Meet Draven
You were stunned by the beauty of the hall's centrepiece,"The Great Red Dragon."
"Oi, it is quite rude to stare."
You certainly wasn't exspecting the current lawman to be this small.
a. "...Fun size. How adorable."
b. "Nice to meet you. Enforcer Solomon. "
c. "
You then follow the Head Enforcer into a teleportation circle.





"Pick your weapon of choice"
a. crossbow get
b. scythe get
c. sword get



a. T-pt
b. D-pt
c. V-pt & R-pt

Quest A: Walk with the Devil [1-Evening 🌔]

BG/CG

Variables

Sc.1.E.D
- You and Draven exchange childhood stories
a. brag
-"I defeat the dragon using magic"
b. tell the embarrassing truth
-"My dad have to dig me out.""Took him 15minutes."
-"Is he a mage?""Nah, he is just a big old yeti"
"Turnout, we both share the shallow end of the gene pool, eh?"
"Slag. We definitely should hangout more."
a. Hell yeah
b.
F" It's getting late. I still have some bags to unpack."
"See you at work tomorrow-"



a. stats
b. D-pt

Quest B: Interview with the vampire [1-Evening]

BG/CG

Variables

Sc.1.E.R
- Ditch the hound
a. sake
b. blood wine
R asks of your impression of his county
a. honest
b. praise
T interrupts with a sabre in hand.
You left.



a.T-pt
b.R-pt

Daily Quest: Hustle [2-Morning]

BG/CG

Variables

Sc.2.M
Your roommate is being loud.
Smoke from the kitchen.
"Sup. Wanna join us for a meal?"
-blood all over, mysterious items, plus chocolate syrup
"Maybe next time."
"Your loss, bro."
You sneaks out.
Sc.2.M
a, Locate your mail box
- Tanner have send you threats
- sweat drops
- Invite to the Feast





b, Find a Gym
-Invite to the Feast
-Julio tries to sell you contraband items,
a. yes
-voodoo nails
-dark spells
-pornography
b. no, thank you





Key Event: Tower of Darkness [2-Noon]

BG/CG
Requirements/Variables

Sc.2.N
A. Help Warren with the festival > Quest B
Warren is leaving early to help prepare for the Festival
-Learn about Warren's secret recipe
-The pups plans to unleash chaos
a. retaliate
-get floored by a protective papa wolf
b.speak no evil
-pups set up the wrestling stage with Beowulf
-W exits
Sc.2.N
B. Coldcase
-"Let me stay and help."
-"Much appreciated."
-Draven grumbles about mysterious limbs/ missing persons in the city. and is difficult to deal with.
> Quest A
"Why is there so many cold cases?"
"Tell me. What do you know of the history between the Dark tribes?"
"Not much. Just the basics. "
"A gladiator Rictus revolts, died a martyr."
"his buddy finishes the job. Something like that."
Theories?
a. a cult
b.a serial killer



a. W points +2
b. D points +1


Quest A: City on Fire [2-Evening 🌕]

BG/CG
Requirements/Variables

Sc.2.E.D
After work, you ask about his blood/wings
a. keep asking
b. hold your tongue
D told you it was like carrying a cruse. he summons a portal.
a. praise
b. teach me?
corspetown, but find it in disarray.
a. follow the ghost
-every single year the count demands 100 souls as tributes
"who did that"
-ouiji crack/ malfuntion, there happens to be a great protection spell casted on the culprit's name.
"what if the count is evil?"
"the count will never do that. there must be a misunderstanding." D defend the count's honour.
"what about tanner?"
"that's not ture. he takes great care of me, after i ranaway from home."
"all the books and weapons."
"he treat me like family."
that's one of the strangest story you heard by far
"...okay."
b.check on everyone, worry about beowilf,etc
-S"three of the chief's nephews went missing!"



a.stat
b. B-pt

Quest B: Timber Lost [2-Evening 🌕]

BG/CG
Requirements/Variables

Sc.2.E.B
-Jean and family offers you drinks, pushes you to the altar.
-Steinfeld asks you to Participate in a wreastling match with Beowulf
a. accept
b. deny



-Maya makes you drink a herbal concoction, then look into your future. -She told a story about pain and perseverance, about a dark truth are about to unveil, there is a chariot of war in the horizon
-Jean calls it bullshit
-Beowulf give it some thoughts

a. B-pt + stats
b. Stat

Main Plot: Missing pup [2-Evening🌕]

BG/CG
Requirements/Variables

a. Leave Beowulf, join the search
-Stumble to a graveyard, a figure hidden in the woods
"who's there. show yourself!"

b. Stay with Beowulf
-quietly add sticks to the bonfire



a.stat
b.B-pt

Hidden Quest: Stay the night [2-Midnight 🌕]
BG/CG
Requirements/Variables
Sc.2.E.M -Help Julio get home
A. Stay at Beowulf's
-"Don't leave."
a. okay, i am staying
b. sorry, i have to leave.

B. Stay at Warren's
-"ouch!"
-room with snack packets, books and paperworks.
hallusinate."what's this?" poke at a jar.
"that's my eyeball.""pretty.""is there a face underneath your skull?""it is not pretty, i'm afraid it may be too soon for me to show my face to you.""i rather not." "showme-""i like your mane. they are so soft to touch."buries face. sniff. of pines and spices.
cuddle. his boney fingers claw at your ribs, sending chills down your spine...listen very carefully to the growls of the creature's belly.
"you are awake."
"i can smell the fear of you."
"Are you about to eat me?"
"no."
a. ask Warren for prove
b. keep your tongue
"don't leave. there are draugr out there."
"the what?"
a. take your leave anyways
"i am not bordered by the cold. i'll take my leave.""but-""thank you for inviting me.""I had a wonderful time."
get chase by draugr. hide in a cave. wall up by ice.
b. stay
you stay for the night. slept like a log. reminder of your hometown. dreamt of fresh fallen snow.

a. stat
b.

Daily Quest: Hustle[3-Morning]

BG/CG
Requirements/Variables

Sc.3.M
you wake up and return to your empty house.
a, You've got Mail
- Tanner have send you another threats, this time with a bloody knife
- you wonder about yesterday's events
b, To the Gym
-Julio is getting scroll by Maya for putting up way too many posters advertising his match against Beowulf
-Beowulf scoffs loudly





Key Event: Voodoo Werewolves [3-Noon]

BG/CG
Requirements/Variables

Sc.3.N
- Something loud, Check out
-Draven and you managed to kill the voodoo werewolves > break sword
- Draven left you sweeping up the aftermath
-Warren arrives the scene, and starts chowing down on corpses
-Warren suddenly feels sick
-You manages to find Maya and Julio for help
-You find out the Festive wine was drugged
Julio "I remembered meeting these dudes. They were at the festival with us."
Draven" They were the missing pups from yesterday."
Warren "Their stomaches tastes funny"
Julio "How?"
Maya "Well, mixing nightshade into their diet will do that."
MC "Will warren by alright?"
Julio "Don't worry, wendigos are a sturdy bunch"
Maya "They are immune to death by poisons"
Warren "There is only one way to kill me."
MC "...Right. Remind me how are you a certified chef again?"
Julio" Ooo... I love that story!"
B"What's happening?"
Blood spills.







Key Event: Voodoo Werewolves [3-Evening🌖]

BG/CG
Requirements/Variables

Sc.3.E.B
A. Tell Chief Beowulf
a. You get ridicule
b. You get told off
Sc.3.E.T
B. Confront Tanner
-You get beat up & tortured
-Draven comes to your bail
-At the bikeyard, Draven got bully by some random monsters
-You found out the reason why D cannot lashout at the citizens
-About the pact made by the great red dragon to the living monsters of this city "There was this tale passed down from my family about a monster." "A chainbreaker"
-You and D causes some propoties damages -Dumpster fire / hang out
- The rebel "I never wanted to be. Not ever."
a. I never like it that much either.
b. Nough said. Let's burn this down.
c. Really? I thought you are doing great at it. "
-You had an argument about the current state of Terra
MC "This city needs changes"
D "No. Its citizens needs stabilities"
MC "You're not seeing the big picture!"
D " "
a. Apologies to Draven
b. Ignore Draven's calls






Hidden Quest: Voodoo Werewolves [3-Midnight🌖]

BG/CG
Requirements/Variables

Sc.3.M.D
Date, Thugs return
a. beat them up, w voodoo nails
b. arson
c. leave the scene / pranks





Sc.3.M.W
Check on Warren
lost in the woods
You decides on dowsing for directions, but is interfere by an unknown force field
-You talked with the great spirits, among them a fallen general spoke up, and guide you
MC "Thank you."
V "...You're welcome."
MC "Hey, what's your name?"
V " Sorry, child...but I do not remember my name."
-shares food & herbs
-talks about



W-pt

Daily Quest: Hustle [4-Morning]

BG/CG
Requirements/Variables

Sc.4.M
A, You ignore your mailbox, which is currentlyoverfilled with T's threats and leaking fountains of blood
-Instead, you go to the Market wanting to purchase a replacement weapon.
- Stop by Steinfeld's booth, he said you remind him of a friend who'd pass away in war, you were givien an obsidian claymore to try on. S promise to give it to you, but its weight just wasn't quite right. you give thanks, and pass on the offer.
B, To the gym
-Beowulf (injured) and Julio are having a wrestling match
-Maya is holding a betting pool, which is illegal
-"this is a terrible idea."
-"That... doesn't seem to bother you."
a. stop her
b.

a. try to call off the match
-You get a punch to the face, and pass out for the entire match
b. let the match began
-Beowulf was beat up, you nurse him back





Key Event: Marrow Keep [4-Noon]

BG/CG
Requirements/Variables

Sc.4.N
You were assigned to exterminate Marrow Keep's local undead population
While you were dicing up the contaminated undeads
You found an interesting gravestone with the name Rictus on it.
A low rumble, the earth beneath you cracks open and the dead rushes to the surface.
Vitus comes to your rescue,
a, You promised to help Vitus recover his past
b, You promised to help Vitus move on with life





Key Event: Notes from underground [4-Evening🌗]
BG/CG
Requirements/Variables
Sc.4.E1
- Stargazing with Vitus
- Draven comes to check on you
- Vitus senses a hidden danger
- Draven vs Vitus
Sc.4.E.D
- MC help Draven wins, Vitus escapes.
Sc.4.E.V
- Vitus wins, you stop him from killing Draven.
Sc.4.E2
- Warren appears
- MC take Draven to Warren's hut nearby
- Wounded Draven gives you an invite from Reznor, asked you to attend in his place.
a. MC asks Warren to take care of Vitus
-W promised to bring V to Maya, find a cure
b. MC asks Warren to beware of Vitus
-W promised to laid a trap for V


CG21
a. D points
b. V points

Key Event: Glasgow Mystery Case [5-Morning]
BG/CG
Requirements/Variables
Sc.5.M
- MC arrives at gate of castle, invitation in hand
- The guest's quarter
- Tanner serves you breakfast
Sc.5.M.Q
- A. You tried to get along
- B. You insults venomous lines
- C. You keep silent





Quest A: Master of puppets [5-Noon]
BG/CG
Requirements/Variables
Sc.5.N.Q.A
- Tanner shows you his wicked crafts
""





Quest B: labyrinth [5-Noon]
BG/CG
Requirements/Variables
Sc.5.N.Q.B
- You refuses lunch. Asked for a tour instead, and was ignored
A. The Library
-You read some books for stats
-herbs > wisdom+
-map > unlock secret room
-rogues > unlock locked doors
-fiction >
-history > legend of Rictus
-science >
-music > secret door/map
B. The Dungeon
-empty
C. The Treasury
-locked





Key Event: Glasgow Mystery Case [5-Evening🌘]
BG/CG
Requirements/Variables
Sc.5.E
- Having dinner with Reznor
- You present Reznor your theory about who's behind the voodoo werewolves/ missing cases
a. Reverent
b. Warren
c. Tanner
"Is that so..."





Hidden Quest: Glasgow Mystery Case [5-Midnight🌘]

BG/CG

Requirements/Variables

Sc.5.EM
- The Library
- Renzor questions your loyalty
- The Treasury
- Renzor given you a sword >V's sword get





Quest: Glasgow Mystery Case [6-Morning]

BG/CG
Requirements/Variables

Sc.6.M
The Treasury >V's sword get
The Library





Key Event: Glasgow Mystery Case [6-Noon]

BG/CG
Requirements/Variables

Sc.6.N
The Dungeon
-Beowulf found
-You hear noise from the cell
Sc.6.Q
a, Saving Beowulf, lead him to the secert door. -Tanner spotted you leaving the cell.
-Beowulf kills You. if B points are too low

b, Leaving the cell, pretend nothing happened. -Tanner spotted you leaving the cell.
c, Leaving the castle/via secret door
-Go find Warren







Key Event: Glasgow Mystery Case [6-Evening🌑]

BG/CG
Requirements/Variables

Sc.6.E.R
- Raznor confronts you
A, You fight
-escape through secert door/ gets killed
B, You tell the truth
-swore loyalty/ gets killed
C, You lie
-escape through secert door/ gets killed
D, You jump out the window





Sc.6.E.B
-You held the claymore, escaped
-Beowulf reunited with you
-Tanner tracks you down
a. Tanner dies
b. You dies
-You survive the brutal assault of Tanner
-Beowulf talk about preping his tribe for war
-There is no moon above your heads, so you howl into the pitch black sky. Together.




B-pt>V-pt
a. T-pt=0

Sc.6.E.V
-You held the claymore, escaped
-You encounter Vitus in the woods, traped in a ring of salt laid by Warren
-Tanner tracks you down
-V defeats Tanner
a. Tanner dies
b. Tanner lives
-Under the dark sky, Vitus sings you a love song



V-pt>B-pt
a. T-pt=0

Key Event: V's Return [6-Midnight]

BG/CG

Requirements/Variables
Sc.6.M.R
-You held the claymore, stayed
-While you and R spends time together
-[Blood ritual]
-Draven stole Vitus's claymore back
-Reznor prep his coven for war




*Blood Ritual, switches MC's Perspective in Requiem
Sc.6.M.V
-Go to Warren's
-You bring Vitus's claymore back
-Draven prep his city for "The last stand."


CG24



Sc.6.M.V>Sc.6.M.O
-Draven jokes around
a. Awesome > Yes
b. Awful > No
-Maya's grand orgy plan revelation



B-pt, D-pt, V-pt, W-pt, T-pt>2+

guts, quirky, savage>4+

Key Event: Requiem [7-Dawn]

BG/CG

Requirements/Variables

-R rides into battle, cape blazing
Sc.7.B.HE
- B wins, MC lives happily ever after
- R dies
Sc.7.B.DE

Sc.7.B.BE
- R wins.

CG3
* T avenges his master, when he hates you


Sc.7.R.HE
- MC on R's side*
- R wins.
Sc.7.R.DE -
Sc.7.R.BE -
-
CG15
*Blood Ritual, switches MC's Perspective in Requiem

*Enlightment, R lives, when MC shares good relationship with T
"Traitor!"

Sc.7.V.HE -
Sc.7.V.DE -
Sc.7.V.BE -
CG
*Backstabber, MC betrays R & T
"M...Master."
Sc.7.O
-The group torm the castle from the sewers
-Julio drugs the castle's wine
-MC convinces Tanner to join
-Draven promises Beowulf vengeance
-Maya convinces Vitus to make up

CG


Ending

Title / Plot

BG / CG

Requirements/Variables

Good End 1

Beowulf
CG1
B points > D/T/R/V/W
Wisdom>5
Guts >5

Good End 2
Draven
CG7
D points > B/T/R/V/W
Guts >5
Quirky >3

Good End 3
Reznor
CG13
R points > B/D/T/V/W
Savage >5
Wisdom >5

Good End 4
Vitus
CG19
V points > B/D/T/R/W
Quirky >5

Good End 5
Orgy Route
CG30
W points > B/D/T/R/V
Wisdom >5
Quirky >3
Guts >3

Bad End 1

Beowulf
CG2
B points > D/T/R/V/W
Wisdom<5 /
Guts <5

Bad End 2
Draven

CG8
D points > B/T/R/V/W
Guts <5 /
Quirky <3

Bad End 3
Tanner
CG26
R points > B/D/T/V/W
Savage <5 /
Wisdom <5

Bad End 4
Vitus
CG20
V points > B/D/T/R/W
Quirky <5

Bad End 5
Orgy Route
CG31
W points > B/D/T/R/V
Wisdom <5 /
Quirky <3 /
Guts <3

Neutral End, No CP

N/A
CG
MC defeats all adversaries.

wisdom >
guts >

Death Screen
Game Over

CG37